Treated vs Untreated Pasture
This unhealthy rangeland pasture was formerly irrigated and productive. When irrigation was terminated, the dryland pasture became dominated by annual grasses despite multiple rehabilitation attempts by the landowner. Edaphix treatment (NutraFix®) was applied to 20 acres in May 2019 (below - top photo). In July 2020 (below - bottom photo) the dominance of perennial grasses can be seen following one treatment. Perennial grass cover was < 5% prior to treatment, and > 50% fourteen months later. This site was not seeded during treatment.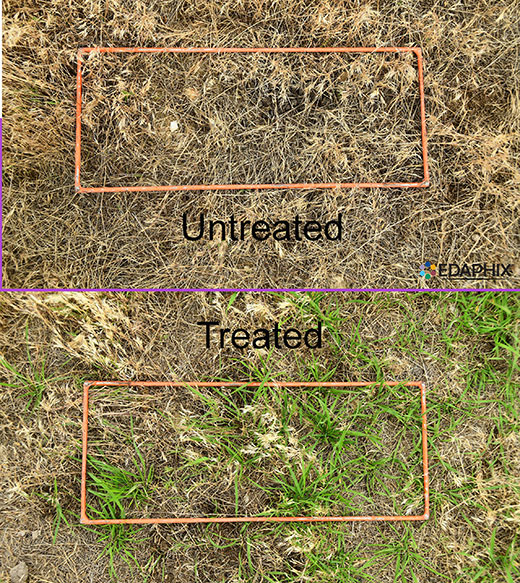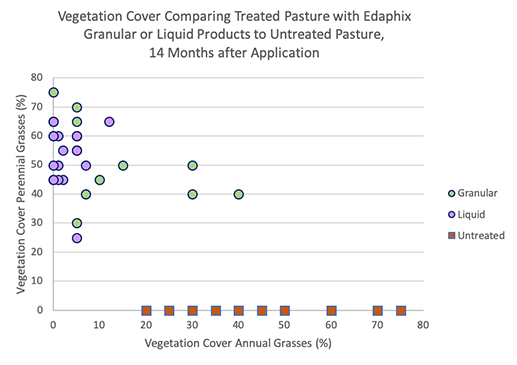 Vegetation cover showing annual and perennial grass cover 14 months after treatment with Edaphix granular or liquid products compared to an untreated portion of the pasture.
---
Treated vs Untreated Roadside
This treated roadside along Highway 84 in Montana shows the success of perennial grasses (green) in outcompeting cheatgrass (red) after 3 growing seasons. Note that the density of perennial grasses has increased in the treated plot in this south-facing roadcut. The treatment was applied as a one-time application. In the 4th growing season (data below) perennial grasses were 28% cover in the treated plot and 14% cover in the untreated plot.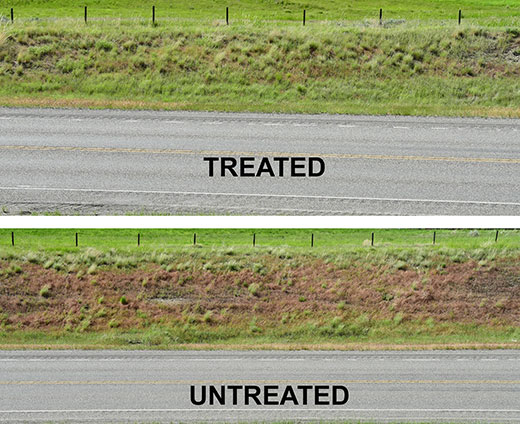 ---
Fleecer Wildlife Management Area Perennial vs Annual Vegetation
At the Fleecer Wildlife Management Area managed by Montana Fish Wildlife and Parks, test plots were installed in September 2017 and monitored in the subsequent three growing seasons. Perennial grasses increased each year and annual grasses decreased annually during the monitoring period at three separate sites. The linear regression model suggests that on average perennial grass increased approximately 1.6% monthly while annual grasses decreased by the same amount during the 33 month period of record.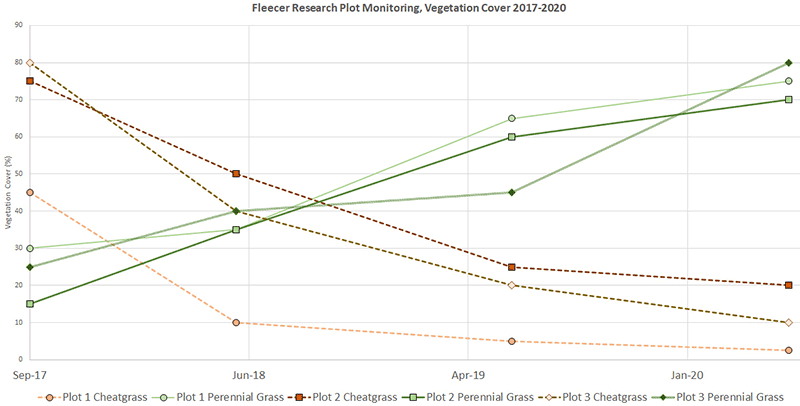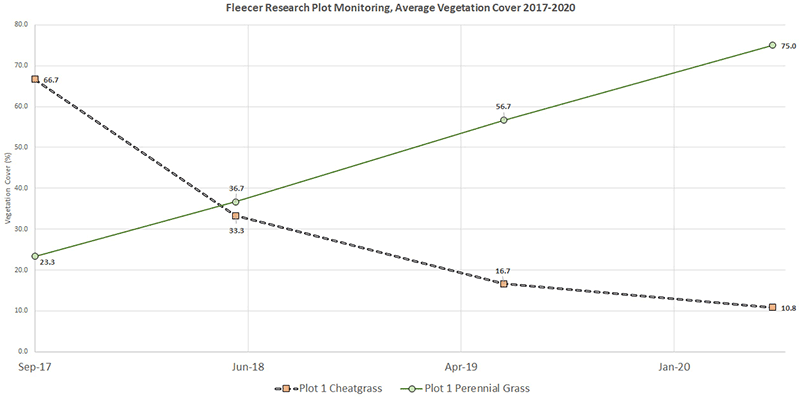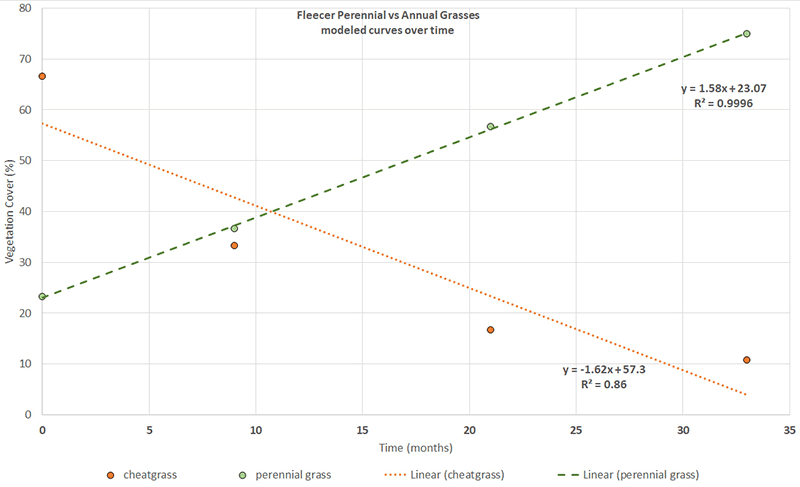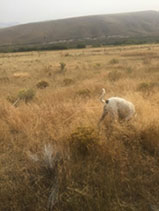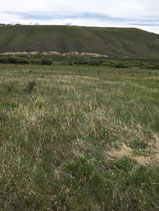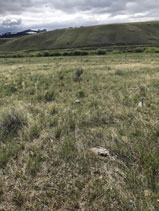 ---
Eagle Cove Site Perennial Grass Cover
On an insland in Flathead Lake in western Montana the world's largest bighorn sheep skull (below) was recently discovered, a suspected kill by a mountain lion https://www.montanastateparksfoundation.org/2018-3-5-wild-horse-island-home-to-world-record-bighorn-ram. Interest in maintaining the health of the grasslands on the island prompted a reseach study implemented by the State of Montana Fish, Wildlife and Parks Department in cooperation with Edaphix and the Montana Wild Sheep Foundation. Three sites were selected and treated with three rates of fertilizer in September 2018. Monitoring in 2019 and 2020 (results above) show the increased amount of perennial grass at the Eagle Cove site during the first two growing seasons as annual grasses were outcompeted following treatment.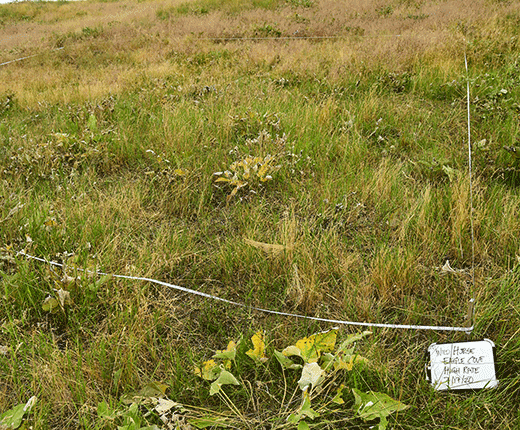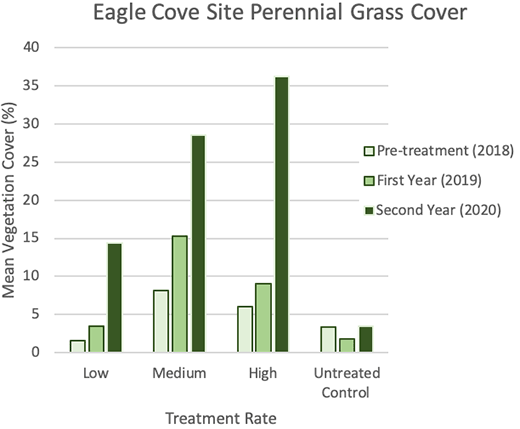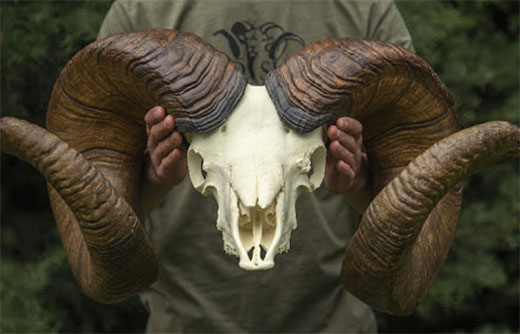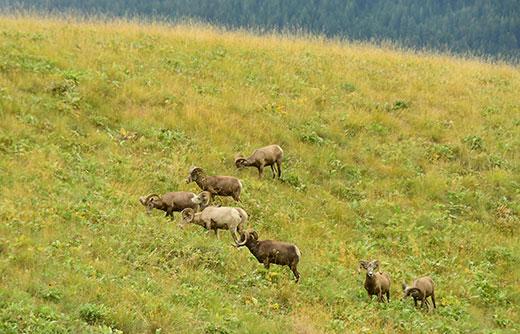 The next generation of bighorn sheep rams came out to visit while we were monitoring at the Eagle Cove site. 2020 photo
---
Wildlife Management Area, Northern Utah
In Northern Utah test plots were implemented in Spring 2019 using various treatment rates and formulations. In Spring 2020 plots were revisited and show prominent improvements in perennial grass cover on the treated plots. In the upper photo an untreated control plot is shown where vegetation cover is dominated by annual grasses, alfalfa, salsify and bulbous bluegrass. In the lower picture the treated plot was dominated by bluebunch wheatgrass and alfalfa. The land manager belives this Wildlife Management Area site was seeded more than 10 years ago but has subsequently become dominated by weedy species. The pink stringline shows the extent of treatment application.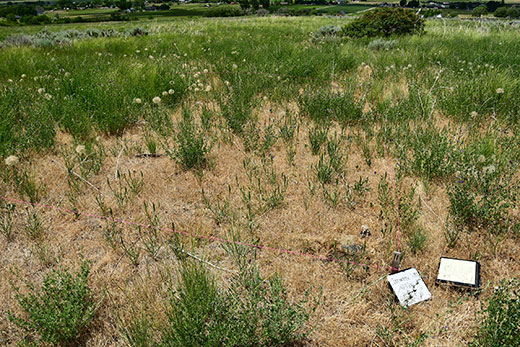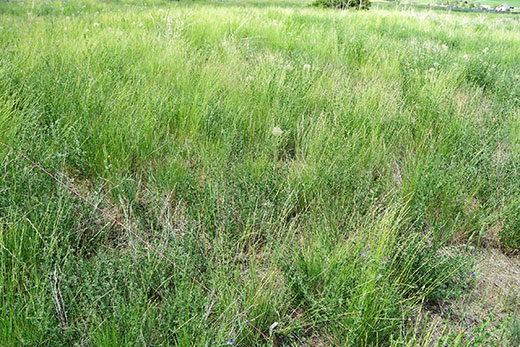 ---
Western Colorado Plots
In western Colorado Edaphix plots were implemented to evaluate treatment efficacy in a dry climate setting. In a comparison of perennial grass vigor and greenness resulting from treatment, a photo pair was taken outside the treated plot (left) and inside the treated plot (right). This may be an important observation related to rangeland fire prevention since the treated plot apparently allowed for improved water infiltration and improved plant growth and vigor. Plots were installed in fall 2019, photo spring 2020.
Photo Credit: Danielle Bilyeu Johnston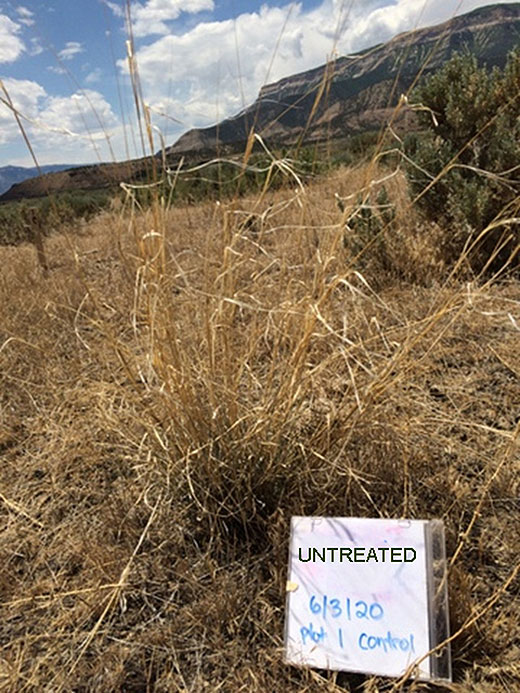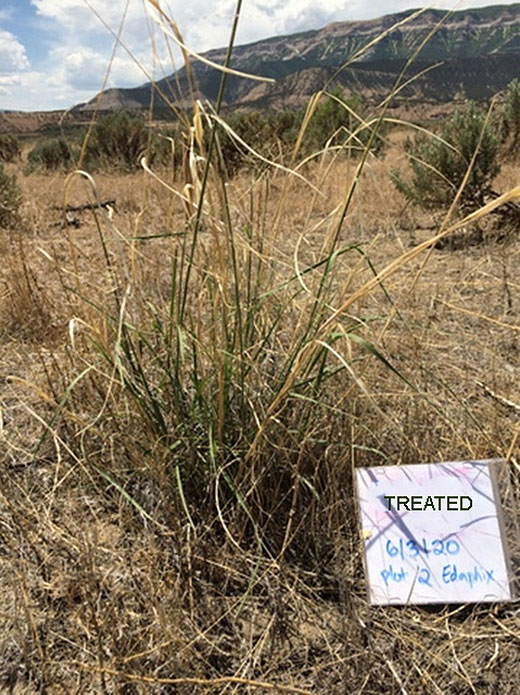 ---
Turf Grass Treatment
Turf grass is another common perennial grass-dominant vegetation type in the U.S. with nearly 30 million acres of lawns, pastures, golf courses, sports fields and commercial installations. In the picture above Kentucky bluegrass has been invaded (right) by clover and dandelions while Edaphix products applied to the turf on the left allows the perennial grasses to outcompete the clover and dandelion.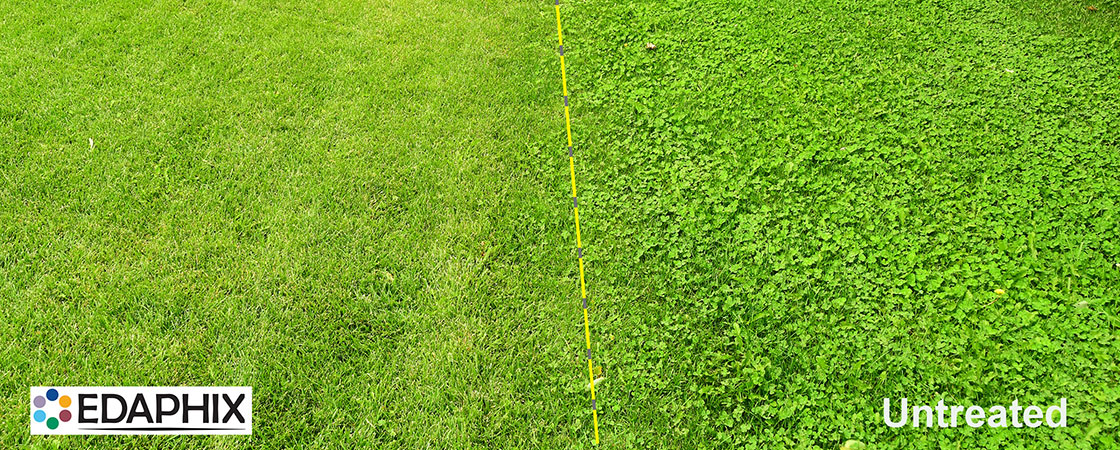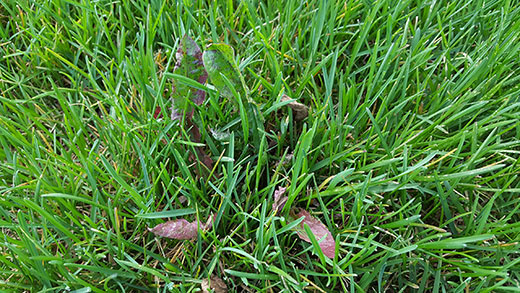 Upon close inspection after soil treatment the health and vigor of Kentucky bluegrass is evident compared to dandelion that is not thriving in the same soil. A potentially allelopathic and/or competitive interaction between the two species suggests the perennial grass is better suited to the geochemical composition of the soil solution following treatment. Both allelopathy and competition between plants are well known naturally occurring processes, however accelerated by Edaphix treatment.